Whether it's an act of nature, vandalism or theft, experiencing damage to your home can be stressful and challenging. While completing all the renovations and claiming your additional living insurance, your family may need to leave your home and stay at alternative accommodations for as long as a few weeks or months.
Direct billing your additional living insurance
Luckily, long-term stay hotels like Canterra direct bill your insurance provider, so you don't have to worry about paying for additional living expenses while you're away. With spacious 1 to 3-bedroom suites, full kitchens and in-suite laundry, we're a soft place to land when you need alternative accommodations in downtown Edmonton.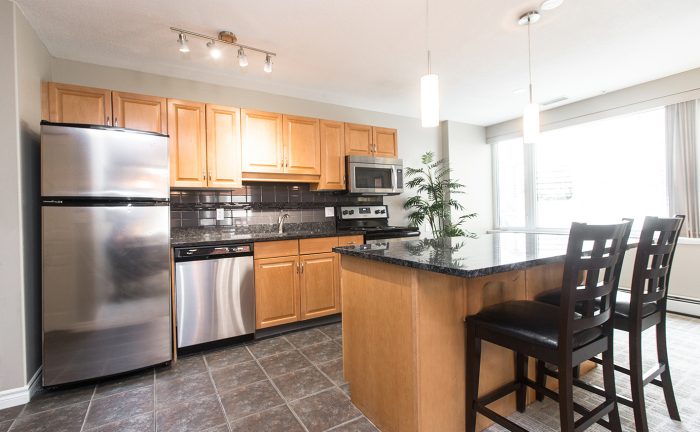 If you're dealing with a property damage incident, you might be wondering about how best to file your additional living insurance claim. How can you ensure your settlement is seamless, efficient and fair? Below, we cover 4 essential tips for getting the most out of your ALE insurance.
1. Understand your coverage
Review your policy closely to determine if your damage claim is actually covered under your home insurance. Be sure to check if you can direct bill your alternative accommodation expenses, too.
For example, many homeowners assume water damage is automatically included in their policy. But, in reality, it can be difficult to get this coverage in cities prone to heavy rainfall and floods.
2. Decide whether to claim or not
Weigh your options carefully before you submit a home insurance claim. Every time you file, your premiums will rise, so make sure it's worth the expense.
For instance, a routine home maintenance project, like fixing your fence, would hike your yearly premiums with very little payout.
If your deductible is higher than the repair cost, you should never file a claim, because you would take a financial hit. For example, if you paid a $500 deductible for $400 worth of repairs, you'd be overpaying by $100.
3. Document, document, document
Be sure to take plenty of pictures and videos of your home, ideally before and after the incident. Before any damage occurs, you should snap photos of your roof, walls, exterior and interiors.
After the incident, take well-lit, wide-framed photos of the affected area, with rulers to indicate scale.
Hold onto any repair estimates and receipts and make duplicates.
Keep a full inventory of damaged possessions, with details about age, initial price and cost to replace.
4. Call the police if needed
What about if you've been the victim of property theft or vandalism? As soon as possible, file a police report so that your insurer can process your additional living insurance claim quickly and accurately.
Record the officer's or department's name, in the event that you need to ask them follow-up questions later on in the process.
---
When filing an ALE insurance claim, keep these tips in mind to protect your finances and repair your home with minimal stress.
In need of long-term hotel accommodations? Have questions about direct billing your ALE insurance claims? Call us at 780 421 1212 or email us at info@canterrasuites.com to book your spacious suite in downtown Edmonton and learn how you can benefit from our insurance direct-billing program.