The business lunch is an essential but often overlooked art. Outside the formality of the boardroom, you can loosen your tie a little, get to know your peers and seal deals over a delicious bite to eat. If you're jetsetting to our business hotel in downtown Edmonton, our vibrant city offers endless lunch options, steps outside your door.
Experience Edmonton's food scene from our business hotel
Once you've arrived at Canterra Suites Hotel, settle into your stylish, spacious suite and explore downtown Edmonton with your clients and colleagues. Here are 3 top lunch spots that are sure to impress the group.
Cactus Club Cafe
11130 Jasper Avenue NW
Edmonton, AB
From mouthwatering cuts of Alberta beef to fresh takes on poke bowls, Cactus Club blends locally sourced ingredients with internationally inspired dishes. This downtown Edmonton spot is the perfect mixture of upscale and relaxed. If you're in the mood for a casual lunch, head to beautiful, sun-drenched patio, situated right along Jasper Avenue. Or, if you're looking to host a corporate meeting, the modern lounge area offers a polished, spacious ambiance.
Tanuki Kyoto Sushi
10128 109 Street NW
Edmonton, AB
Tanuki Kyoto Sushi prepares meals with a reverence for authentic Japanese traditions. Soak in the inviting atmosphere at an open table, or settle in to a quiet sitting room for a little more privacy. Whether you're craving rolls, sushi, sashimi or tempura, the lunch menu offers a vast variety of options. Try one of the bento boxes if you like to sample a bit of everything. Plus, the eager, knowledgeable staff is more than happy to educate you on any of the dishes.
Ricky's All-Day Grill
10140 109 Street NW
Edmonton, AB
Delicious comfort food in a neighbourly atmosphere: Ricky's provides a welcome respite during the work day. Brunch enthusiasts will love the flavour-packed brekkie bowls and eggs bennies. But, lunch classics, such as hearty soups, salads and sandwiches, will please anyone's palate. The friendly, speedy service and the comfy seating make this a top pick for business lunches.
---
When travelling to downtown Edmonton for business, be sure to take a break from work to socialize with your peers over a memorable meal.
Learn more about our hotel amenities and corporate hotel rates
Our corporate hotel is minutes from the city's world-class bistros and restos, along with all the essential shopping and amenities you need. Plus, with our highly functional meeting and event space, apartment-style suites and competitive corporate rates, we make business travel even more rewarding.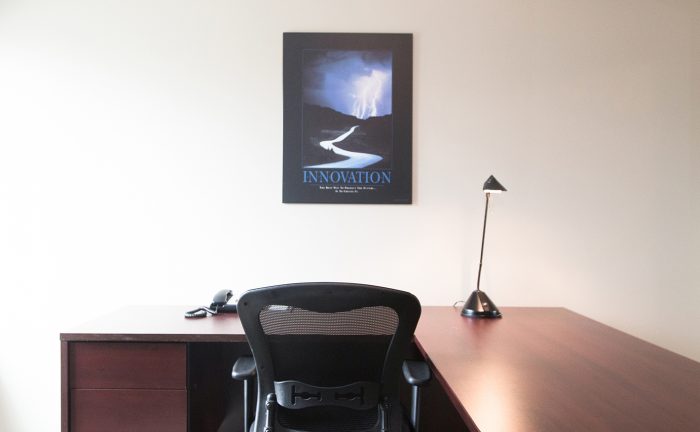 Learn more about our bedroom suites and floor plans
Make a reservation online, or contact us at 780 421 1212 or info@canterrasuites.com to save on large bookings with our corporate hotel rates.
Back To News