Are you a frequent business traveller? Are you finding it difficult to stay productive when staying at a corporate hotel? Then keep on reading to find out ways to boost your productivity while on a business trip.
It can be difficult to stay on top of your to-do lists when shifting from your normal schedule. From routine changes to unfamiliar workspaces and sleeping conditions—all of this can affect your focus right when you need it the most.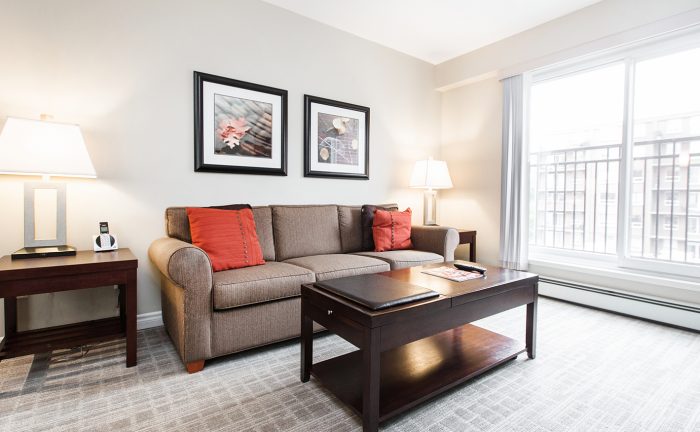 If you're staying at a business hotel like Canterra, here are four effective ways for you to boost your productivity and accomplish all the work you need to do.
1. Plan everything ahead of time
Scope out the location of the business trip, including coffee shops, local restaurants and the distance to any planned meetings or events.
Learn about Edmonton's best lunch spots
Plan your transportation to avoid traffic or deciphering confusing road maps. If possible, familiarize yourself with the available public transport. Whether through phone or email, be sure to communicate to your colleagues how you prefer to be contacted while you're away, in case they need to send you any last minute requests.
2. Pack only the necessities
It pays to be smart in what you're packing for a business trip. Prep all of your outfits for each day to save both suitcase space and time on deciding what to wear.
Although this is a trip, it's not a holiday, so it's best to only pack what you'll use. We tend to fill up our luggage space with unnecessary things, and more often than not, these items are already available at your corporate hotel.
Learn more about our hotel amenities and corporate hotel rates
Though it depends on your line of work, add these essentials to your packing list:
Travel-friendly devices. Leave the bulky laptop and take only compact devices that you'll need for your work like a lightweight laptop or tablet.
Business attire. As mentioned above, set out every outfit before you leave and avoid overpacking too many suits and ties.
Personal care items that business hotels don't usually provide. Slip toiletries like deodorant, makeup, shavers and hair tools into your bag. Consider leaving your shampoo, conditioner and moisturizer at home.
If you typically go for a daily walk or workout, bring your activewear and sneakers. Regular exercise will boost your mental output and relax your mind before a business meeting.
3. Set daily objectives and a checklist of to-do's
The day before you leave for your business trip, take some time to set your daily goals and create a checklist of to-do's for each day. You'll then have complete control of your workday schedule and priorities, so you don't feel overwhelmed and scattered.
Program reminders and memos onto your mobile device to help you manage your time. Keep your daily to-do list on your desk, mirror or in your wallet—somewhere you'll always notice it.
Of course, there's always a possibility for your plans to change, such as a cancelled or delayed meeting To prepare for any schedule shifts, be sure to give yourself plenty of time to travel to a meeting or event.
4. Prepare everything before you hit the bed
Set out your clothes where you can quickly grab them and put them on first thing in the morning. If you need to give yourself an important reminder, place the item you need to bring or a sticky note on top of your car keys or phone.
Most corporate hotels offer complimentary wake-up calls, so take advantage of that service to ensure you don't oversleep the day of an important meeting.
Other tips:
Check and double check your to-do list is done for the day, then prepare next day's schedule.
Check your work email or phone before you sleep to ensure you're aware of any last minute changes of plans.
Plan your transportation for the next day like booking a cab (most business hotels would organize that) or determining the public transport schedule.
---
Looking for a business hotel? Canterra Suites Hotel, located in downtown Edmonton, provides all the comfort, work space and privacy you need on your business trip. Learn more about our corporate hotel rates and amenities by phone at 780 421 1212 or by email at info@canterrasuites.com.
Back To News